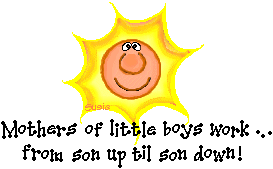 Well, I sure hope you're a returning visitor and you enjoyed your last visit enough to come back. However, there have been some major changes to my site and I hope you feel for the better. To start with, when I started this site, I knew absolutely nothing! HTML?!?! What did that mean? Had me asking everyone about it. That didn't help either (grin) HYPER TEXT MARKUP LANGUAGE? INDEED!!! Boy, I'm telling ya, I went through a lot of pepsi trying to get these pages done. (teehee) This was no easy feat (the HTML, silly - it is all too easy for me to go through pepsi like crazy!)...so aaanyway, here I was, wondering what tables and colspan, center and fonts, TD and TR's. sheesh people. I don't know how much better my understanding and skills have improved since then (only 3 months ago!), but I really enjoyed putting the site together (and drinking the pepsi), so I hope you have fun surfing all my pages and following some of the links. There are a lot of goodies here at PooH's Corner, so bookmark our site and come visit PooH and his friends at the 100 Aker again real soon!!!


Brags and Kudos
In Memory of Daniel
Connor's Page
Tribute to Our Rainforests
Banner Exchange Program



Read my Guestbook!