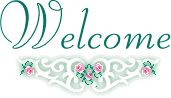 Gabbiee's ~*§*~ Corner
for the hopelessly romantic

Without warning
as a whirlwind
swoops on an oak
Love shakes my heart
~*§*~Sappho~*§*~





Ok peeps! Gabbiee's Corner has had a total makeover, if you haven't noticed by now. =O)~ I just wasn't happy with the other look it had; besides that was one of those looks where you can really tell that the page was done by a newbie to web design. ta da!! Yours truly. However, I feel I'm beginning to get the hang of it, and I hope you find some interesting links in my 'lil Corner. I promise I will have more links and other info. up soon. In the meantime, enjoy what's here & tata for now.

~*§*~Some of my favorite links~*§*~







Check out my Titanic Page
The Most Romantic Movie of all time !!!




A hug warms the soul
&
places a smile in the heart.
Author Unknown




Click for this week's free wallpaper poster
Click HERE to give away free wallpaper on YOUR site!






Check your daily horoscope
Click on the image








Graphics by Disigner Originals



Table backgrounds are
Backgrounds by Rick

You are visitor
to Gabbiee's Corner
Get your free homepage at Tripod